To order by phone call 505 288 8500
Roasted & lightly salted Piñon Nuts
Perfectly roasted with just a hint of Sea salt - sold in the shell
Leave your review on Facebook!
Read real testimonials like "Best piñon I have ever had... with fast shipping"

For larger quantities use the drop down menu.
Thanksgiving sale going on now! FRESH 2017 crop!
Click to read @ us - the #1 reviewed piñon seller!
50% less price than street vendors! - A half pound is 8 ounces (the same amount sold in Abq. for $20 - a 6x6 inch sandwich sized ziplock bag,) 3/4# is 12 ounces, 1 pound is 16 ounces with packaging...So if you order 1 lb. from us it is cheaper than buying in the street in Albuquerque, & you didn't have to drive! Read our reviews!!!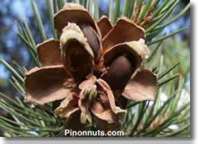 Picture for illustation only.,
They actually have a hint of salt.